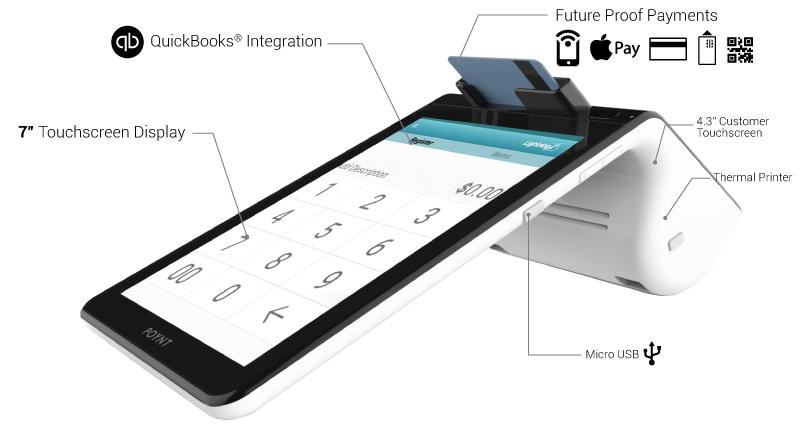 Are you a modern company that's looking to get a POS that can grow with you? With modern credit cards getting a makeover and transferring to a chip system over the magnetic strip, you're probably wonder about what kind of future trends could lead to a whole overhaul of the system. POS devices can be expensive, and you want one that will be able to tolerate all of the changes in the industry that may occur within the next few years. Of course, no POS is totally future-proof, but the closest thing to it is the Poynt Credit Card Terminal.
For a little bit of background, Poynt was created by a former Google executive who was responsible for Google Wallet. Before that, he worked at Paypal for 9 years, so there's a lot of payment service experience behind this project. He started the company Poynt in 2013.
Poynt is a little bit different from other POS setups in that there is no monthly fee, no percentage of your sales to pay, and no ongoing payments at all that you have to pay to the company that sells it. All you do is buy their equipment for a one-time fee—a simple terminal—and you can connect it to your merchant service provider of choice. This kind of flexibility is what makes Poynt so promising, even if there is relatively little feedback to be had, since the device just came into the market in 2015 and hasn't had much time yet to prove itself. Their business model, rather than relying on the merchant's transactions or even on profits from hardware sales, will be based on the idea of an app store. Basically, merchants will be able to buy apps that will expand functionality on their terminal. This will make upgrading to better software easier for the merchant as well.
The goal of Poynt is to provide a simple, Android-based alternative to other common POS systems out there that are tied to a specific company. Unlike other companies offering bare-bones solutions to the problem of taking a customers money, there is no need to use a specific payment processor. The idea is that the industry is constantly changing, so it would make no sense to forgo the benefits of being able to use multiple payment processors or switch between them. This is what Poynt hopes will keep their new credit card terminal from meeting obsolescence quite as quickly as other available solutions.
The market seems to be on board with this option, because Poynt managed to presell nearly half a million units of their new device earlier this year. Time will tell whether this will be the "next big thing" in POS technology or not, but many start-up businesses are hopeful.
Now, should you jump on the bandwagon and get a Poynt credit card terminal for your business? This of course depends on your needs, as you may find that your business is too specialized. However, if you simply need a machine that will take your money, it might just be the perfect choice for you. Here are a few of the major benefits of Poynt over its competitors, such as Square, ShopKeep, and others:
No Monthly: Fee Poynt's model relies on your paying to add features, so it doesn't charge you a monthly fee. If you do pay fees, they are from your payment processor, but Poynt will not demand anything from you on a regular basis. You simply buy the equipment and you're ready to get started.
Poynt Won't Cut Into Your Revenue: With simple POS systems like Square, you pay more when you make more sales. It is almost like a tax on your revenue, and this can get expensive quick if you have a huge volume. With Poynt, this isn't an issue because they don't take a cut of your sales at all. This can greatly reduce your expenses and help you save money, especially if you've only just reached your first growth spurt and you need to re-invest as much as you can.
Poynt Takes Just About Everything: This credit card terminal will take a number of different payment processors. Everything from the usual credit cards and debit cards, to Apple Pay, to cash, and many other things in between. It is a dynamic system that can be modified through buying functionality, and it is sure to be able to grow with you and your business as times change.
Even the Upfront Cost is Negligible: A terminal from Poynt is less than 300 dollars. This is a lot less costly than many current offerings, so even if you are a startup and don't have a lot of cash to spare, chances are you can use this system. With all of the savings and such a low price for the terminal, it really is a no-brainer solution. A system like Square may still be a bit more simplistic, but the up-and-coming Poynt is probably now the best value that you can possibly get.
There's no really a cost-associated reason to not give it a try unless you are an incredibly lean startup, however, there is at least one reason that Poynt may not be for you: Let's say that you need very specific functionality, such as for a pawn shop or a consignment shop, that keeps track of your inventory in a specific way. In that case, you'll probably want to hold off until this system has proven itself to work well in your particular context. Luckily, Poynt will make use of apps to expand functionality.
It is not yet clear what kind of impact that Poynt will make on the market, but for now it is clearly a promising alternative. As it gets more difficult to make a profit with all the middle men trying to make a cut, hopefully this new efficient system will offer a solution for merchants. Eventually, cashless transactions may become similar to cash in overhead costs, and this innovative POS is certainly a step in the right direction.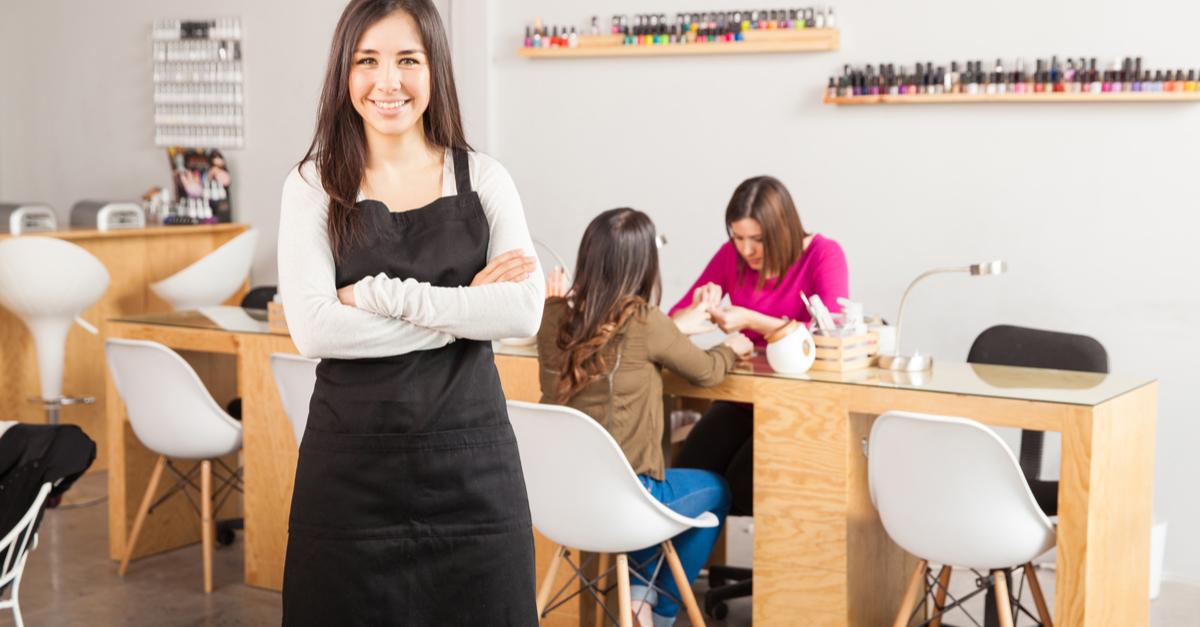 There's nothing that makes a woman feel more beautiful than having her nails done at a salon. If you're in the business of providing manicures and pedicures for eager customers, then congratulations, because nail salons are often very profitable endeavors. Perhaps you are working as a nail technician for someone else and you are looking into starting your own shop, or maybe you already run your own business and are wanting to get organized. Regardless, if you are running a nail salon, an invaluable tool for getting things done efficiently is having a POS system that matches you well.
You may feel inclined to do things primitively with just an old cash register and a credit card, since your business is mostly service-based and may not include the amount of inventory that you might find in, say, a grocery store. However, every business is the same in that staying organized and having a way to get a bird's eye view of your effectiveness is invaluable. A proper POS will allow you to keep all your records digitally, analyze data such as sales and inventory, and of course take your customer's money in an integrated and hassle-free way.
Lots of people assume that POS systems with these kinds of capabilities have to be complicated or expensive, but they really don't. Let's take a look at a few options that you might try for your nail salon, to help you get a better perspective of the costs and functionality of a few popular systems:
Square
You may have heard of square before, and indeed it is a great, if simplistic POS-esque solution. They provide a way to take your customer's money and also provide great analytics, and they have no monthly fee, which makes the popular with many small startups who don't have any money to invest in either higher-end hardware or in a monthly service fee.
Though you may associate them with businesses like food trucks, Square has some salon-specific and beauty shop-specific solutions that might work well for your niche. However, there are a few downsides: Since they take a percentage of every transaction as their fee, this may not be ideal if you have higher sales volume; it may make more sense to find a POS with a simple monthly fee. Also, Square tends to rely on hardware that you already have such as your tablet or phone, so if you want a simple, all-in-one solution, then Square is probably not it.
Vagaro
This salon- and spa-centric POS system offers all kinds of features that you may find useful for your nail business. In a lot of ways, it is more than just a POS: It allows you to track your customers' purchases and keep a dossier on their personal history with your salon, provides analytics, and handles online booking and confirmation. If you want to start a newsletter for email marketing purposes—which is an invaluable technique for keeping long-term customers and sending them promotions—it can also help you with that. You can buy different kinds of hardware packages from them for your point of sale system as well, and while they are not expensive, they do require an upfront cost. If you're looking for something that doesn't require this upfront investment, you might want to go with another company.
Harbortouch
Currently, there is no salon-specific software from this company (though it is in the works and the company is growing), but Harbortouch certainly makes up for it in affordability. For very little or no upfront cost, you can have all the hardware and software you need to get a great quality POS set up in your shop, and the monthly fees associated with the service are rather low. A few of its major benefits include customizability, a wealth of analytics, and the fact that all of your reporting is not only available locally on your machine, but is also stored on the cloud, so that you can review your stats remotely and you never have to worry about losing your information should your hardware fail.
There are two main POS systems from this company to choose from, and they are the Harbortouch Echo and the Harbortouch Elite. The Echo is a great choice if you are just starting out and don't have too many employees; it's also the more immediately affordable of the two. Even though it's available for a surprisingly inexpensive monthly fee, they certainly did not skimp on features: It has an intuitive touch screen design whose home screen elements can be customized to your taste. Its interface is very easy to learn and training is included with the package. It includes great reporting and organizational tools, and you can access all of these remotely.
The Elite is a bit of a different animal, even though it includes all of the features of the Echo and more. With the Elite, you can further customize your software to make it even more specific to your business, and the hardware is extremely powerful. If you want a POS with a fast processor, and plenty of storage capacity, as well as the ability to control your own user interface experience down to the little details, this is a good choice. It's not even that expensive, so it's definitely worth considering if your business has grown past its initial stages.
As you can see, there is lots of choice in the world of POS systems for nail salons, and these certainly aren't your only options. In a lot of ways, it's not about trying to find the system that is "best," but trying to find the one that works well with your situation. Whether you want to go with something incredibly simple like Square or you want to get a POS with the capacity to handle just about everything like the Harbortouch Elite, it's a good idea to look into getting some kind of system to handle your sales. Even just the convenience and cost-savings of having digital records stored from the beginning can save you a lot of headaches during tax season.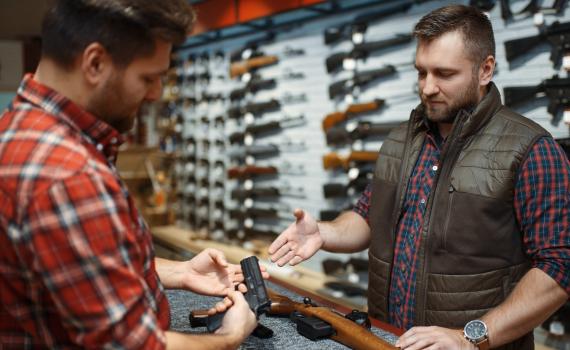 When you're selling guns, there are a lot of variables that you have to keep in mind when setting up your business. There's a potential for more bureaucracy and legal concerns when you're opening up shop, and so it becomes that much more important that you keep your records as organized as possible. In addition, just like any other kind of retail store, you're going to want to give your customers the best experience possible, by making it easy for them to buy using a variety of methods. You're also going to want to give them an easy-to-use interface when it's time to sign the payment screen and go through the usual motions of a purchase. You're going to want a quality POS that can help you run your transactions smoothly, that can keep your records for you, and that can help you get a good idea of your sales trends through some kind of integrated analytics.
On another level, you also have to worry about your bottom line. Way too often, point of sale systems can be prohibitively expensive, whether because they run using expensive proprietary software or because the hardware that they use is specialized and high-cost. Thankfully, lately there has been an emerging generation of good quality, yet efficient POS systems that work well for just about any business and don't cost an arm and a leg to get started. Some of them even provide a slew of extras that you may not have expected. Let's take a look:
1) AimSi - With a software package that is specifically geared towards owners of gun and archery shops, AimSi handles a few different functions besides serving as a basic POS. It will keep track of your inventory, help keep records for ATF compliance, and keep schedules for firearm-related classes that your shop may provide. In addition, it offers ecommerce solutions as well, so that you can have an online store along with a brick-and-mortar setup.
This is a fairly simple option with easy software to learn and plenty of support, but it does have an upfront cost of hundreds of dollars. In the grand scheme of things, that's really not that much, but if you're not ready to pay that kind if money, or you simply want a better deal, then there are certainly other options. The draw here is that there are so many gun shop-specific features to this POS, but you might find that these aren't completely essential for you, especially if you're small and just starting out.
2) Gun StoreMaster - Like the name implies, this is an overall solution for most of your gun store needs. It is much more than a POS, and in fact you could say that its POS features are actually a small part of this software package. Mostly, this software takes on the critical tasks of a gun store; for example, it will help you with the creation of a Bound Book for ATF compliance, and it will also help you create the paperwork that you need if you find that any of your inventory has been stolen. It will enable you to track your inventory as well as help you comply with the law in various ways; this is invaluable when you're a small operation in particular because it can get easy to be overwhelmed by all the bureaucratic requirements.
Now, the POS portion of this software solution is based on QuickBooks. It integrates more or less seamlessly with the other Gun StoreMaster software, and any inventory that you add on the Gun StoreMaster end will automatically apply to the QuickBook's POS inventory list. It's a fairly inexpensive solution and is meant to keep things simple for your business.
3) Revel Revel - is one of the newer POS players, and it's one of those modern POS systems that seeks to be minimalistic and give the customers a completely integrated system, using inexpensive and familiar software, all for a low monthly fee. Though Revel doesn't have software that's specific to a gun store and its unique requirements, it's one of those very basic solutions that is narrow in its functions. This isn't necessarily a bad thing; in fact, it can be a very good thing because it can save you a lot of time on training and potential technical problems.
Revel offers the usual things you would expect from a POS: It will take the customer's money, and it will keep track of sales as well as inventory. If you need to get an idea of your business trends, there are also reports that you can view of sales data, among other things. All of this software runs easily on hardware that you may be quite accustomed to already, like the iPad, and it is very much an example of the modern trend of POS systems. You can choose different specialized software packages to customize your interface and functions to an extent, but—as mentioned before—there is no customization specifically made to accommodate a gun store, so you may find yourself just using a basic retail model.
Regardless, Revel is not a bad choice thanks to its security, which is something critical when you're dealing with a gun store. The support is top-notch as well, and you will always have someone to turn to if things go South on the technical end. You might want to give this POS company a try, especially if you're a smaller business that needs a more simple solution.
Starting any sort of business can be overwhelming, but it's especially difficult when you're dealing with a business like a gun shop, where not only do you have to worry about keeping the customer happy, but you have to worry about complying with a myriad of ever-changing laws. Whether you are only selling firearms, or you are also providing classes on their use, or rentals for your shooting range, you will need a quality POS, so remember to do your research well; the list above is not a bad place to start.